Every minute at the SOCAP Conference has a high opportunity cost, it's exhausting, in the most satisfying way.
Everywhere you turn there's an interesting conversation to be had, a session to attend or someone new to meet.
And amongst it all I was finding time, and a quiet corner, to record some podcast episodes (listen here).
The conference went by in a blur, but with some space to reflect while on a flight to New York, I want to try and capture some of the highlights, ideas and emotions from my four days in San Francisco.
The event
SOCAP stands for Social Capital Markets, as they say, it's the intersection of money and meaning. So, on one level it's an impact-investing conference, but it's a lot more than that.
It's a meeting place for the ideas that gave birth to the social impact movement. And the evolution of the conference is a clear reflection of the growth and dynamism of the sector as a whole.
I had a great chat with Cathy Clarke from CASE at Duke University (podcast episode coming soon) and she explained that in the early days there were no investors at SOCAP, it was just entrepreneurs. And it was with her urging that investors got involved. The initial clash of cultures soon gave way to cooperation, and the result is a vital gathering of those involved in the many stages of social enterprise development.
There's a daily of schedule of panels talks, workshops and presentations. But what became apparent is that SOCAP is all about meetings.
Everywhere you look there's huddles of conversation. It's entrepreneurs pitching ideas and foundations listening to investors, and curious conversation between strangers, old friends and colleagues catching up, even the odd Aussie podcast host looking for his next guest.
It's a meeting-place more than a conference. You don't attend to be a passive consumer, you come to share.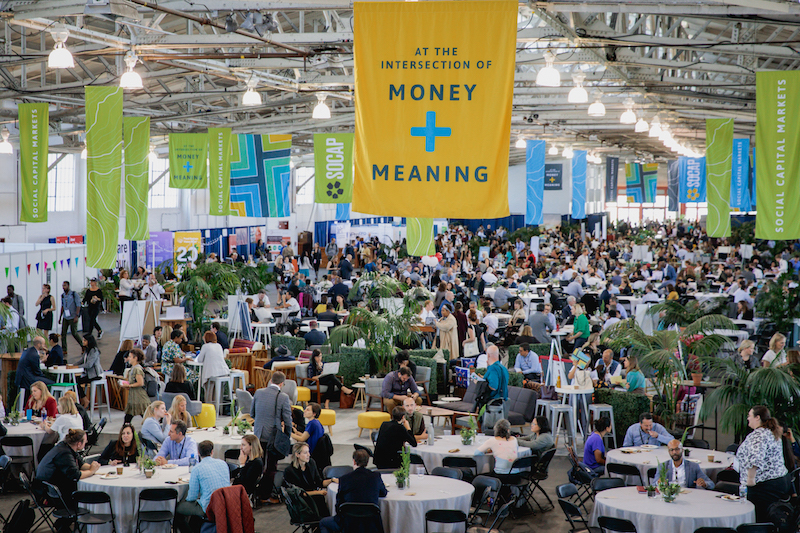 The impact
New ideas are the currency of the social impact sector. The evolution of financial structures, innovation in business models and shifting mindsets are the fuel for the positive impact that's at the core of everyone's work.
This year the key themes that I felt were core to discussions included:
The end of Capitalism?
"Are we, as impact investors, complicit in the problems in the system?"
Fran Seegull, Executive Director of the US Impact Investing Alliance, mediated my favourite session of the conference. With a dry wit and clear judgement she facilitated Andrea Armeni and Shuaib Siddiqui trading blows on a whole range of issues, about equality, market-rate returns and how we can influence big, public companies.
Shuaib Siddiqui
"Since coming out of the financial crisis we've seen the wealth divide only get worse. nothing really changed. But if this continues, there will be no-one to buy shoes or cars. To be pragmatic, as investors, we need to consider this."
Andrea Armeni
"The Business Roundtable statement represents a realisation (by the wealthy) that they're under attack, but it's only a brief release valve. It's not systems change. But… it is an opportunity. It's an opening for us to push a new direction for the market."
"We can't change the world without changing finance."
Fran Seegull
"So it this about the privatisation of power, and of public policy?"
Shuaib Siddiqui
"There's $24 trillion in pension funds, and that represents labor. It's democratic. Sure, there's a certain exclusivity in terms of jargon and jobs. But the levers are there. There is hope to steer this huge pool of capital."
Andrea Armeni
"If you care about social justice, racial equity, or sustainability, finance touches that. And you can look into it, do the research, and find the touch-points. You can organise and find the levers."
"There are also individuals within these big, powerful organisations, who may be sympathetic. And they can be very effective at seeding change. While their views were divergent, they were both legitimate. The value was not in winning the argument, but in the discussion itself."
Fran Seegull
"So you're subverting from the centre?"
Shuaib Siddiqui
"A stakeholder perspective is vital, but it's still essentially in the service of shareholders and long-term value creation."
Andrea Armeni
"The Business Roundtable statement has opened the door for a new conversation. What about re-writing corporations law to embed stakeholder primacy in a corporate charter? This is the moment to think big."
Crystallisation of global impact frameworks
The IFC released their Operating Principles for Impact Management earlier this year and Diane Carol Damskey, Head of Secretariat at the IFC, spoke about the implementation of the principles, teething problems and hopes for the future. A framework like this is big, cumbersome and abstract, but it's vital to give the sector a defined shape that everyone can adapt to. It's professionalised the field and builds the trust that's vital for expansion. But it still needs to adapt to the needs of smaller investors.
In a similar vein, the UNDP's Elizabeth Boggs Davidsen spoke about the SDG Impact program, a platform to align investment structures with the SDG's.
Elizabeth explained their linkages with the Impact Measurement Project, and the array of metrics and frameworks that are now available, leaving few excuses for not measuring your impact.
As Leticia Emme from GIIN explained, 'we've done your homework for you, now you just need to apply it.'
Moving from these large plenary sessions, over to the smaller sessions, there was a stark contrast.
There were social enterprises and smaller investors are dealing with far more practical issues on the ground level. Issues which are political, geographical and often very personal. And it was here that they dug into the meatier issues of inequality, the philosophy of economics and the threat of ignoring systemic change in the pursuit of scale.
SOCAP did well to manage both ends of the spectrum.
Independent verification of impact reporting
Impact measurement has evolved, and there's now a growing expectation for impact reporting to be verified by a third party.
The Impact Measurement Project is working hard on this, and Olivia Prentice, the COO at IMP, explained that from its earliest days the organisations came out of a need for clear definitions and alignment of goals.
Hannah Schiff, from Nuveen TIAA, explained that their impact reporting is focused on reliability and transparency as an end in itself. "It's a call for everyone to be more open with their processes.
"Plus, getting independent verification wasn't as tough a sell as we'd anticipated."
Participatory investing: integrating beneficiary voices into decision-making
We need to ensure beneficiaries are at the centre of investing decisions. But all too often decisions are made from the comfort of corner offices, far away from the problems they profess to be solving.
Sean Hinton, CEO of Soros Economic Development Fund, led a lively conversation on the topic. It pulled apart the undeniable benefits of co-operative models, while also conceding the many challenges they bring. Noting that these challenges offer the best opportunity for business model innovation.
"The paradox is that VC actually has a very high failure rate. But when investments are managed closely with those involved, quality is higher, and the failure rate is lower."
"You can't DO social development to people, you need to go on the journey together."
Aaron Tanaka, Director at the Center for Economic Democracy, offered insights about the change he's seen in the sector: "In the debate about market rate returns and concessionary terms, I wanted to know who was making these decisions, I spoke here five years ago and that was a radical question. But now, here we are, we have a whole panel on this issue of Participatory Impact Investing."
"The heart learns what the hands do."
The people
I met a lot of people at SOCAP and everyone was friendly. That may sound like an off-hand comment, but it's not, it's sincere. I was travelling alone and there weren't many moments when I felt adrift.
On the first night I'd arranged to meet up with Daniel Madhavan from the Impact Investment Group. He'd brought a delegation of Australians over to the conference with him, and he not only gave me time for an interview, but he invited me to dinner with the group, and he made sure I felt welcome.
At the conference I found myself speaking to people at every opportunity. Whether it was at the coffee cart, or lining up for lunch, or when I found a seat for breakfast.
This was a conference where people came to have meetings, as much as listen to panel talks. And it felt like that intention remained throughout. I struck up a conversation with a pair of South Africans who were building a commercial fish tracking platform, and a local guy that did design-thinking research into people's engagement with sustainability.
I met investors and business owners and heads of government departments. I even bumped into podcast guests who I'd only met over the phone. We hugged, like old friends.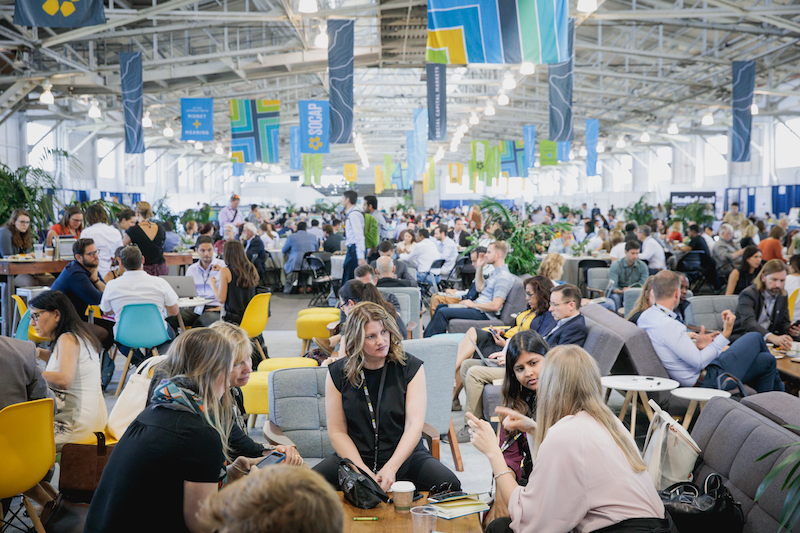 Takeaways
Status dissolves when you're all in the same room and everyone wants to share ideas.
We Australians have a unique eagerness to understand what the rest of the world thinks of us.
The hot topics and key trends are all issues that the best of the Aussie impact investors have been tackling for years.
My energy and enthusiasm for the world of impact investing has been multiplied many times over after attending SOCAP. It's not an asset class and it's not an industry: it's pulling them all together and making them work better together.