To make your sustainable investment strategy standout, you need strong brand messaging that reflects your values, and speaks directly to your target audience. 
——
The most successful companies keep us coming back because we share their values, not because they're the cheapest or have the most features. 
By clarifying your marketing message you'll differentiate your ESG and impact investment offering, building both trust and loyalty.
Plus, it will help to unite your team. A clear brand messaging framework gives everyone in the organisation a consistent set of tools for external communications. 
What is brand messaging?
'Brand messaging' is the way you communicate what you do; it captures the personality of your organisation, and the 'why' behind your business. 
For asset managers and investment firms, it's a vital way to build an emotional connection, and inspires people to engage with your strategy.
It's actually a set of communication assets that includes your mission statement, and the tagline that will sit on the front page of your website. It defines your unique value proposition, as well as the customers you hope to serve. 
And it operates as a central source-of-truth, so all members of the company can convey a consistent message when they communicate both inside and outside the organisation.
As a content strategy consultant, I depend on a well-defined brand messaging template as a foundation, before I start working with a client on content development. And if it needs updating, then that's where we start.
It's all content, but once your brand messaging is sharp and precise, the consistency of the message will flow through to all of your other pieces of content. 
It will better represent what your organisation stands for, and it'll make your content articles, videos, podcasts and white papers far more engaging for your customers.
How to create a brand messaging template?
A brand messaging template is a magical thing, because it makes content production a breeze. 
Whether making content for your website, social media or even in the press, the brand messaging will offer a central source of consistent copy. 
Plus, the production process will give everyone in your team a chance to offer their opinion, giving them buy-in.
There's lots of brand messaging templates, frameworks and models out there, but most are more complicated than they need to be. 
My template narrows it down to four key categories for your top-level core messages: 
Why, What, Who and Wow.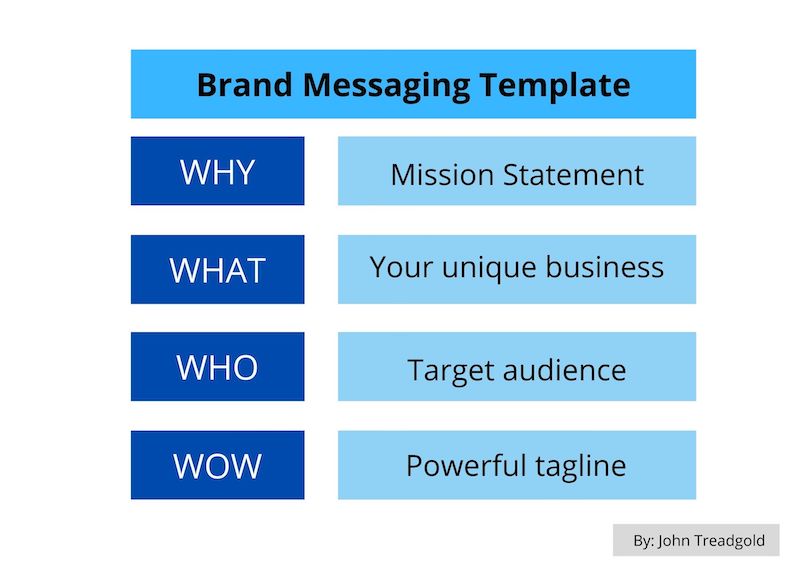 WHY – Your Mission Statement
Your mission statement is your 'why', it's a powerful statement of action that defines the purpose of your organisation, and why it exists. 
It's the long-range goal that inspires you to go to work every morning. It should feel genuine to your business and take hard work to accomplish. 
As Seth Goden would say "it's the change you're trying to make in the world"
This tends to be the hardest section to write. It needs to capture the essence of your organisation, it's your true north, which means it shouldn't change very often. 
Ideally, your mission statement is already core to what you do, but for many organisations it may still be lacking.
To craft a statement that truly represents the purpose behind your company, you need input and buy-in from everyone. This can take time, and many iterations, but it's worth it. 
It has the potential to unite the team, and it may teach you a thing or two about the nature of your business, and what it is you're really creating.
Here are some examples of powerful mission statements:
Tesla – To accelerate the world's transition to sustainable energy
Aware Super – Our aim is to help every member achieve the retirement they want and deserve
Australian Ethical – A world where money is a force for good
ING – Empowering people to stay a step ahead in life and in business.
BlackRock – Investing for a New World
Cochlear – We help people hear and be heard
Patagonia – We're In Business To Save Our Home Planet
IKEA – To create a better everyday life for the many people
WHAT – What do you do? Your UVP
This explains your business model, and captures the unique offering you're delivering to customers.
In marketing-speak, this is your Unique Value Proposition (UVP).
While the mission statement doesn't change, your UVP, and the way you do business, will be far more dynamic. It will change and adapt along with the tastes of your customers.
And the key here is the focus on the customer. It's tempting to just trot-out the functions and features of your product, but that won't engage your audience. 
Instead, you should speak directly to the challenges and pain-points of those you're trying to reach. 
Don't tell them about your product, tell them how it's going to solve their problem.
WHO – Identify your target audience
If you're going to effectively solve someone's problems, you need to know who they are. 
You need to know what makes them tick. What are their dreams, their fears, and their aspirations?
This may sound like it's going deeper than their investment preferences, but that's the point. 
By leading with empathy, you can discover a more complete picture of your audience, and that's the key to offering value when producing content. 
The more you know your customer the more you can respect their attention, and deliver content that they love. This will build both trust and loyalty; two things which are in increasingly short supply in the world of financial services. 
It's KYC, but from the heart.
WOW – Create a powerful tagline 
A tagline is often the last piece of the puzzle to be written, but it's the first thing most of your customers will see. 
It sits front and centre on your home page, so your tagline needs the WOW factor.
It should be short, and catchy. The aim is to hit your audience in the heart first, and then as they read on, you'll appeal to the head. 
It will be shorter than the mission statement, but it will embody the same tone and worldview. It can hint at the UVP, but it will operate on a more subtle, subconscious, level. 
The best taglines are only a few words long, but they can take weeks to write. 
Here's a few examples:
Leapfrog Investments – Profit with Purpose
Square – The future of business is yours to shape
De Beers – A Diamond is Forever
MasterCard – There are some things money can't buy. For everything else, there's MasterCard
Samsung – Do what you can't
Slack is your digital HQ
Build Your Brand on a Strong Foundation
Investment managers are rational by nature, which is vital when you're valuing companies, and analysing ESG metrics. 
But when it comes to your brand, you need to use messaging that goes beyond the rational, and embrace the emotional. 
If not, you'll struggle to get traction as you compete with a sea of other investors who all have the same datasets and regulatory constraints.
Instead, focus on what makes you unique. Dig deep into the values that have helped your organisation grow, and bring them to the fore with confidence and energy. 
Your customers are humans first and investors second, so go for the heart.