There was smoke in the air as we arrived on the first day of the Impact Investment Summit Asia Pacific. Bushfires had taken four lives, and they were threatening homes in suburbs North of Sydney.
Climate change is no longer an abstract concept, it's a clear and present danger, so we had to get to work.
Wisdom, courage, action
Teila Watson and Lorna Munro led a welcome to country that was part song, part poem, but also a baring of deep emotional scars about theft of country and loss of identity. It was uncomfortable, as all good art must be.
In the spirit of the unconference, we were then offered a water meditation by Ashara Ekundayo. I'm always full of nerves and expectations when I walk into a conference room. So many people and faces, so many meetings and conversations. But by feeling grace with those beside me, and standing up straight and closing my eyes, I felt like Ashara reset my mindset, and suddenly, we were all there for the same reason.
We heard from Justin Dillon, he's an expert on modern slavery, a musician and a great speaker. He helps companies dissect their supply chains, and he created a platform that allows people to see how many slaves their Western lifestyle employs. He used humour to make a difficult subject engaging.
It was a diverse set of voices, but in the spirit of the event, they were all driving towards the same goal, of positive impact through a collective consciousness.
Power
For me, the key theme of the summit was power:
Identifying your power
Using your power
Shifting power
Power of the individual
We all have power, we just don't realise it, and this is particularly true in the world of finance. It was mentioned more than once, that the big lumbering super-tankers of finance, the super funds, are actually owned by all of us! Every worker in Australia is an investor, and that's a power we're slowly recognising.
As Abhilash Mudalier explained:
"We all have power. In every conversation we can ask the questions: how does this impact climate change? How does this progress the SDGs? You can be the person who asks your bank where your money's invested."
In a similar vein, Kirsten Hunter from Future Super explained the radical shifts that came from the "Not Business As Usual" campaign that they led. In a remarkable feat of empowerment, they had young-people sharing an email from the CEO of a super fund. Outrageous!
Take action!
Power, like money, is worth nothing unless you use it. The field of impact investment is full of good ideas and, even better intentions, but it's action we need if we're going to make a difference, and time has run out.
Fortunately, we have events like the Impact Summit to deliver inspiration and help to build connections for collaboration.
Michele Giddens (an impact pioneer and co-founder of Bridges Capital) explained that she wasn't going to listen to any excuses: "Get out there, go and find the most impactful strategy in the asset classes you're interested in! Don't just rely on ESG analysis, don't just compete based on returns, there's so many options out there."
Charly Kleissner offered us a rousing call to action via-laptop, as he put it:
"We all have a choice to make, we can be the victims of this unprecedented challenge of climate change and inequality. Or we can step up, and face this challenge. To commit to the mindfulness journey, the one-way trip to exploring this new world of consciousness and intention."
When Danny Almagor (Chair of IIG) took the mic he warned us he might cry, but it was the rest of us who were at risk of shedding a tear. He spoke of his family being torn apart in the holocaust, and about the strength of will it took to rebuild. But he also brought a reality check by asking us all if we've committed 100% of our capital to impact. It's a simple question, and arguably he's preaching to the converted in a room like that, but… only a few hands went up.
We need action, and we all have the power to make change.
It was a hard act to follow, but David Ritter from Greenpeace was up to the challenge. He took the microphone, but then he paused… was he choking-up we wondered? Was he lost for words? He wasn't.
In his trademark eloquence he mused on what these fires meant. Did they represent our collective inaction and apathy? Were we seeing our future go up in flames? Is it too late?
Now is the time for an urgent alliance of capital and community, he said. We need to support those business that are saying no to fossil fuels. And to shun those that refuse. We need to support systems change from all angles.
It was powerful, it was very unconference, and everyone in the room was rapt.
You'll not find a more enlightened, passionate and visionary panel.
Get out of the way
Most difficult of all, is to give up your power for the greater good. Deep systems change may mean recognising your entitlement, stepping aside, and letting others take the reins.
This isn't altruism, it isn't sympathy, pity, nor weakness. It's vital change.
And change is coming whether you chose to move or not.
As the finance world still battles with the scourge of sexism and outdated gender norms, the power is shifting.
The Impact investment Summit had more female panellists and speakers than male. The audience was diverse, and the pale-stale-male clichés were thankfully absent.
For me, Durreen Shahnaz, was MVP of the event in the way she defined the shifting power dynamics that are coming.
She'd lost her voice but she was determined to deliver her wisdom. She held the mic close and she spoke in a low and husky whisper. We had to lean in, we had to concentrate. She was spare with her words and we hung on every one as she implored us to all find our own voice.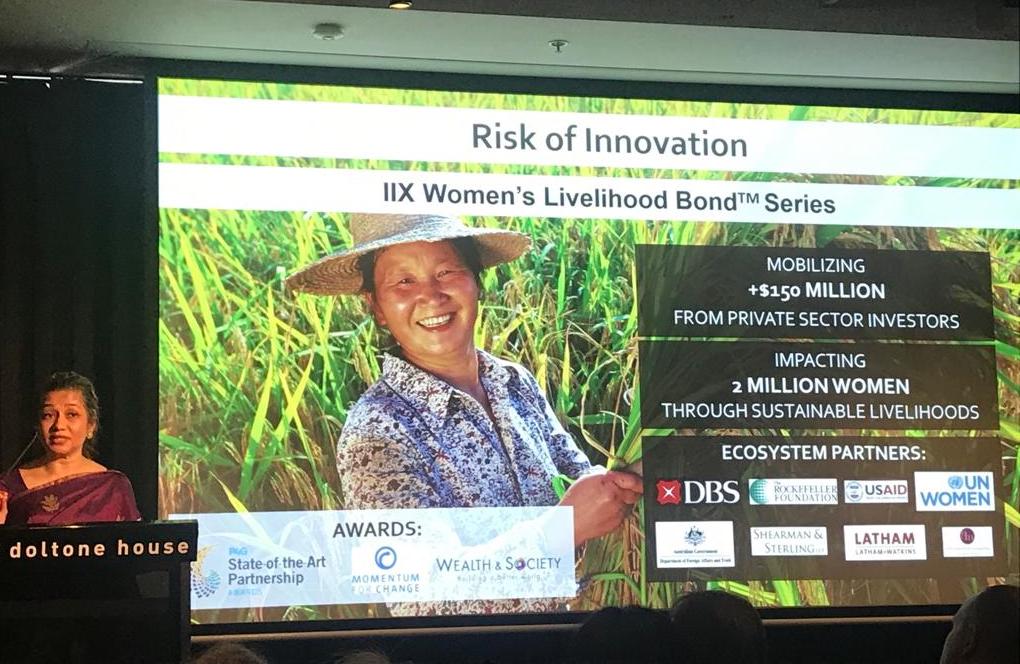 She's now known as; The Impact Whisperer.
"I was the first Bangladeshi woman to work on Wall st." she said.
"I saw where the power lies, that it lies within financial markets."
"So I made it my mission to connect the back street to wall street."
She built Impact investment Exchange (IIX), an equity crowd-funding platform. She took the power she needed to make the change she wanted to see in the world.
"Woman are a solution to economic disadvantage. Not a victim."
Beyoncé was not in attendance, but her words are useful here;
"Power's not given to you. You have to take it."